Today I am in a mood for cheesy designs. Some guy named Tony Laidig, who by the way teaches awesome courses that allow you to get your creativity all wild, referred me to a website with all kinds of open source graphics and they make me go all creative in a cheesy way. Hence the cheesy graphic.
Here's the story. If we are connected on Facebook, you may have seen some pictures. Last weekend I was attending a conference called NAMS. I want you to go there with me next year, but we'll talk about that later.
One of the Keynote Speakers, Nicole Dean, whom I am honored to call Beachie Sister (another story for later), has made the awesome decision to make this coming April Awezomization Month.
She thought: If I can get 1111 people to do 3 awesome actions for 30 days straight, that would add up to 100.000 awesome actions.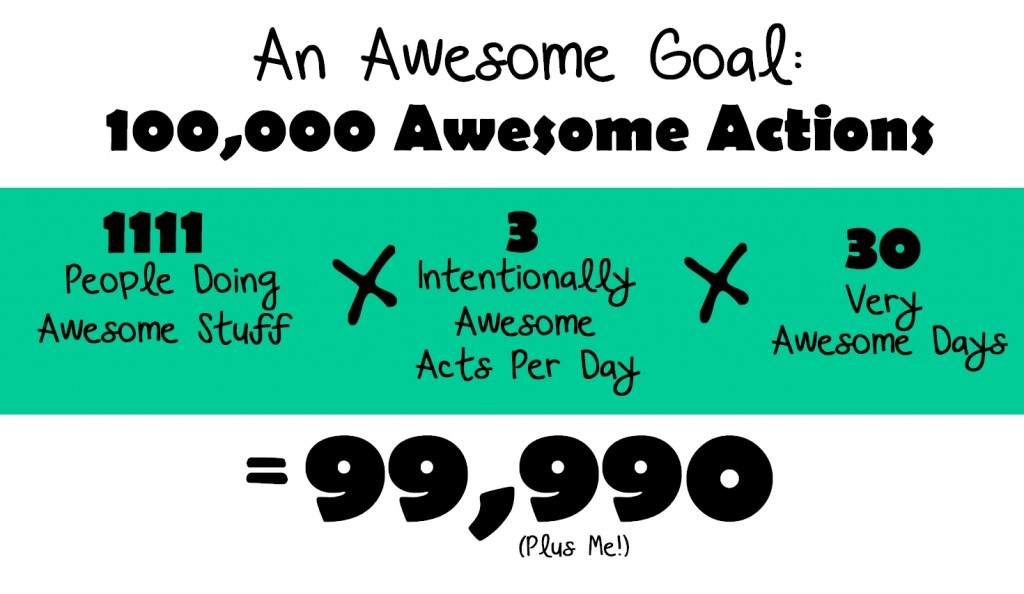 Now, if I could see you right now, I may see a puzzled face? You may have thoughts like: Awesome actions? Help me out here? What would I be supposed to do?
Nicole crafted up 3 categories of awesome action:
Awesomize your business
Awesomize your life
Awesomize the world
Here's some examples from Nicoles website:
Awesomize Your Business
In the "Awesomize your Business" Category, a task might be:
Do you have all of your social media set-up? If not, set up a missing piece today. (Twitter, Facebook, YouTube, Pinterest). If so, go back and check your bio on all of those. Is it current and sexy? If not, fix it.
Let's talk about your passwords today. Did you know there are programs that can manage those for you so you NEVER waste time trying to find a password again? Here's a video with the one that I use.
Take your smart Phone outside and do a quick talking head video for your business. You don't have to post it anywhere. Start with an intro of your name & URL, a quick message or story, and a call to action. Just try it and see how it looks. What do you like about it? What would you like to work on? If it's "ok" post it to either Facebook or YouTube.
Awesomize Your Life
In the "Awesomize your Life" Category some tasks to choose from might be:
If you're in the grocery store today, pick one fruit or veggie that you've never tried before and get it and enjoy it.
Is there an area of your house that drives you crazy with clutter? Take 15 minutes and go through it right now.
Tell your kids that you're proud of them today.
Write a letter to a relative that you haven't talked with in awhile.
Awesomize The World
In the "Awesomize the World" Category, a task might be:
Got hotel soaps laying around? Grab them all and put them in a bag. Sometime this week, swing them by a battered women's shelter. They need them.
And I could add a few more:
Awesomize your family
Awesomize your school
Awesomize your volunteering
Do you think you can do that? Cause I think you can.
And I think you could, oh noh, you SHOULD help spread the word so that this gets all over the world and way exceeds 1.111 people. I am thinking millions, friends!
Here's what I need you to do:
Go stand in front of the mirror and say out loud" Today I Stake My Claim For A Piece Of Awesomization Nation". Repeat as needed.
Follow this link: http://wwayd.com/shine/aff/go/yvettesonneveld and Stake Your Claim For A Piece Of Awesomization Nation for only $10. Now this link is an affiliate link. If you buy through this link I will earn 75% of what you paid. And I will forward every single penny of that to the Curacao Food Bank.
After that, you will receive an email to get on the mailing list. Click the link to confirm your e-mail address.
Join the Facebook group as instructed and introduce yourself. Also please tell the group that I made you do this!
Start looking forward to a month to never forget.
Talk soon!
Yvette